Ask | Share | Learn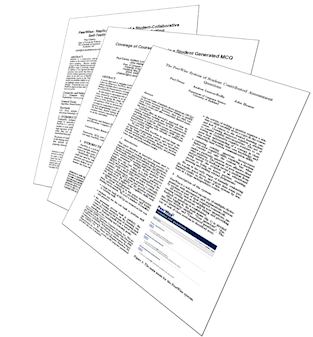 PeerWise research
An open invitation - join us in studying the use of PeerWise by students.
Welcome
We are excited about the pedagogy of student authored assessment questions, and are interested in evaluating the use of PeerWise by instructors and students across a range of disciplines at the secondary and tertiary levels. We hope that you and your students find PeerWise a useful learning tool, and we invite all interested teachers and instructors to join us in evaluating its use in your classrooms. If you would like to find out more, please don't hesitate to contact us!
Focus of research studies
Current research activity spans three very broad areas as described below. If you are willing to collect data from your own use of PeerWise to help us learn more about any of these areas, we would love to collaborate with you.
Efficacy

We would like to examine how students' involvement with PeerWise affects their performance on exams, homework and other formal measures of learning. If you'd like to participate here, we need:

Student performance data. This would typically take the form of exam data or final class scores, listed with students' PeerWise identifiers. If you offered extra credit or awarded participation marks to students who used PeerWise, we would need the scores excluding the extra credit or participation marks
PeerWise activity data. This is automatically collected by PeerWise

If you are willing to share data beyond the necessary items above, we would particularly be interested in:

Norming data: anything that measures a students' initial ability prior to using PeerWise. This might be students' GPA, their grade in a prerequisite course, or scores on any assessments (such as midterms, tests or homework) that were administered prior to the introduction of PeerWise into your course.
A description or copy of your exams, especially if you've given us exam scores.
Course information, such as usual academic level of students, major track vs. general education, etc.
Historical data about average grades in the course you are teaching.

Repository quality

We are also interested in the quality of student-submitted questions and the overall quality of the PeerWise data bank as a general repository, as well as the reliability of sutudent-submitted quality ratings. This requires qualitative analysis of question repositories, considering such factors as:

coverage of major course topics
range of difficulty in questions on each topic
sophistication and correctness of individual questions
indexing, particularly as measured by student-selected tags

Student and instructor perceptions

We want to know how students and instructors feel about the pedagogy of student-authored questions in general, and about using PeerWise to support this activity in particular. This would require surveys and/or interviews of students and faculty to examine, among other things:

likes and dislikes about the tool itself or its implementation in classes
ease of use in finding questions on selected topics, writing questions, accessing/exporting participation data, implementation in the course, etc.
perceived value as a study tool, especially as compared with traditional study methods
comparison of participation levels between different students, or between required levels and actual levels
Please let us know if you would like to find out more about these research plans, are interested in becoming involved, or have any questions.
Contact us
If you have any questions, or are interested in being involved in research around PeerWise, please get in touch with us: