This question has been answered by 22 people and has an average rating of 3.95 (based on 19 ratings)
There is a macaron vending machine which sells macarons of the following varieties of combinations. There are 3 different flavours of macaron shells which are green-tea, vanilla, and strawberry. There are 4 different flavours of creams which are chestnut, chocolate fudge, buttercream, and mixed berries.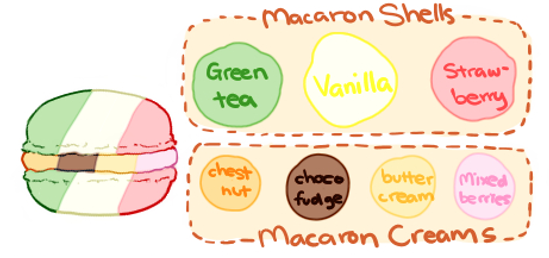 This macaron vending machine does not let you choose which combination you want to get. The following graph shows the outcomes of different combinations of macarons the machine has every 251 macarons.

Jared came to the vending machine to buy himself a macaron. Answer in 2 decimal places and find the possibilities of Jared getting a macaron he wants if:
a) Jared wants the macaron to have some sort of berries flavour in it (either with the strawberry flavoured shells or mixed berries cream or both).
b) Jared is happy with anything as long as the macaron does not have buttercream.
c) Jared is fine with anything other than the combinations of green-tea flavoured shells with any cream except chestnut cream.
d) Jared is fussy and only wants vanilla flavoured shells with chocolate fudge.
Note:
All 4 cases are separate and independent; one does not affect another.
The following topics have been indicated as being relevant to this question: